Cone Beam CT 3D Imaging System
ASK Dental Clinic is proud to offer cone beam computed tomography (CT) imaging technology, allowing us to produce high-resolution 3D images of your mouth for better diagnosis and treatment. With our cone beam CT, we can detect diseases such as oral cancer and better place dental implants.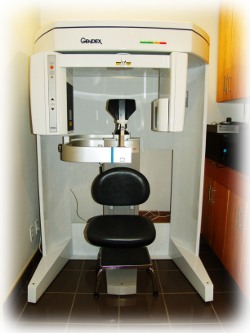 Cone-beam CT technology uses cone shaped x-rays in conjunction with advanced computer software to reconstruct your mouth, face, and jaw areas in 3D. Scanning is comfortably done while seated, usually for less than 20 seconds. Your exposure to radiation is minimal as the digital scanner produces considerably less x-rays than traditional CT scanners. Wearing a lead apron further reduces your exposure, while our trained staff ensures you are as safe as possible.
Once scanning is completed, your dentist can examine your mouth and surrounding areas with great detail. The 3D reconstruction replaces traditional panoramic and CT scans, and allows your dentist to diagnose many health problems, including oral cancer.
Your dentist can also view detailed cross sections of your jaw to examine its bone thickness and shape. This is crucial for the placement of dental implants. Using cone-beam CT imaging, we can better ensure that implants are accurately and properly placed with ample support from bone, without intruding into nerve canals, sinus chambers, and other areas potentially dangerous to your health. Our in-office scanner eliminates additional visits to a radiologist during implant treatment, saving you time and money.
Whether in a checkup or surgery, the more informed your dentist is of your mouth, the safer you are. Cone beam CT technology is the leading-edge in providing this information, protecting you from hidden threats to your oral health!
Visit www.conebeam.com/ for an overview of cone beam technology, or www.gxcb500.com/index.html for information on the specific model installed at ASK Dental Clinic.
Make your appointment today to take advantage of Conebeam CT imaging.