Preventive Treatment
The best way to avoid dental problems both now and in the future is with preventive maintenance. ASK Dental Clinic provides comprehensive, professional dental services that will keep your smile looking healthy and bright. Inadequate cleaning and dental care can lead to gum disease, cavities and even the loss of your teeth.
At ASK Dental Clinic, our dentists are highly trained professionals who use state of the art equipment to clean and care for your teeth, so you can be sure that your mouth is healthy.
Preventive services that ASK Dental Clinic offers:
Regular Recall Exam - Focuses on your teeth and gum health and concerns
Full Exam – Focuses on your teeth and gum health and concerns PLUS:

Exam of soft tissue surrounding mouth and neck
Exam of temporary mandible joint (TMJ)
Exam of oral soft and hard tissue
Cancer Screening
Medical & dental history
Treatment planning
Nutritional advice related to oral health

X-ray film examination
Teeth cleaning (Scaling and polish)
Fluoride treatment to enhance re-mineralization of the tooth surface
Pit and fissure sealant to prevent decay
The dentist will also identify any other preventive treatment options that may include:
Space retainer - to help space teeth evenly for healthy growth
Night guard - to prevent grinding teeth
Sport guard - to prevent damage to teeth while playing spots
Snore appliance - to solve snoring and sleep apnea problems
To keep your smile bright and healthy, schedule your appointment today.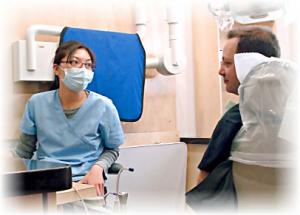 Hygiene assistant Iris gives oral health advice after a regular examination.